Rate Brief
Updated: 2016-05-30, 16:00:21 ET
The Interest Rate Outlook
The stock market registered a slim uptick during the past week to snap its three-week skid. The S&P 500 added 0.3% for the week, settling a bit below its 50-day moving average (2,060), which has been an area of congestion since early May. The advance in the stock market took place even though the week featured several Fed speakers who hinted at the possibility of the next rate hike being introduced sooner than many market participants may be expecting. Furthermore, the policy minutes from the April FOMC meeting also discussed the rising likelihood of the next hike taking place as early as June.
The fed funds futures market took notice of the rate-hike talk, which resulted in rate-hike expectations being pulled forward. At the end of the week, the fed funds futures market was hinting at a 30.0% chance or a rate hike in June after pricing in an 8.0% likelihood of a June move just a few days before. As for December, the fed funds futures market now sees an 80.0% likelihood of a move by that time, which is up from last week's 59.2% estimate.
| | | | |
| --- | --- | --- | --- |
| | 05/20/2016 | 05/13/2016 | Change |
| Fed Fund Futures Rate Prediction | Jul. 2016 (53.6%) | Dec. 2016 (59.2%) | --- |
| 10yr Treasury - 2yr Treasury | 96 bps | 95 bps | 1 bp |
| High Yield - 10yr Treasury | 604 bps | 625 bps | -20 bps |
| Corp A - 10 yr Treasury | 127 bps | 127 bps | UNCH |
| 10 yr Bund - 10 yr Treasury | -169 bps | -158 bps | -11 bps |
| 5yr, 5yr Forward Inflation Breakeven | 1.60% | 1.64% | -3 bps |
The spread between the 10-yr Treasury note and the 2-yr Treasury note ticked up one basis point to 96 basis points after a brief dip to 94 in the middle of the week. This leaves the spread near levels from late 2007 and it implies increasing growth concerns among bond traders. This spread remains well below last year's level of 166.
High-yield spreads contracted after seeing an uptick off this year's lows with the high yield-10yr spread decreasing 20 basis points to 604. This spread has retraced its surge from the start of the year, but it remains well above last year's level of 419 basis points.
Investment grade spreads did not budge, holding at 127 basis points after a three-basis point increase last week. This spread is at levels from mid-April, but above last year's mark of 104.
The spread between the German Bund and the 10-yr Note decreased for the third time in the past four weeks. The spread fell 11 basis points to -169 basis points. This spread was at -163 basis points last year.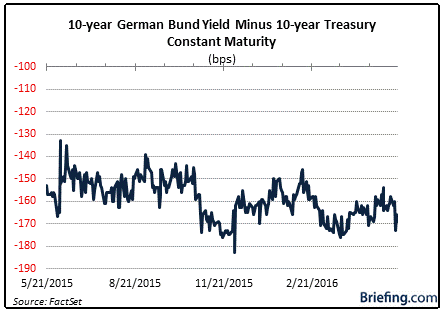 Inflation expectations retreated for the third consecutive week as the five-year, five-year forward breakeven rate decreased three basis points after falling seven basis points two weeks ago. The rate dropped to 1.60% after marking a fresh high for 2016 three weeks ago. The rate remains well below last year's level of 2.56%.