Rate Brief
Updated: 2016-12-07, 16:00:19 ET
The Interest Rate Outlook
U.S. Treasury yields moved slightly higher at the long end of the yield curve last week but were unchanged at the front end and belly of the curve. The second official estimate of U.S. Q3 GDP growth was a 3.2% seasonally adjusted annual rate, higher than both the first estimate of 2.9% and the Briefing.com consensus of 3.0%. ISM Manufacturing was also a positive surprise, moving to 53.2 for November from 51.9 for October. On the downside, personal spending grew at just 0.3% m/m in October (Briefing.com consensus of 0.5%) and that caused downward revisions to GDP growth forecasts. Also, the November employment report showed that average hourly earnings (AHE) fell 0.1% m/m in November (Briefing.com consensus 0.2%). Average hourly earnings have tended to disappoint, however, when the jobs report's survey period does not include the 15th of the month. Also, AHE growth was 0.4% m/m in October, so the November miss was not terribly worrisome.

Treasury Secretary Nominee Steve Mnuchin said that, if confirmed, his department would consider borrowing money at the 50 and 100-year maturities. While there are several impediments to such a move, the yield curve steepened anyway due to the potentially large effect if the measure was undertaken.
| | | | |
| --- | --- | --- | --- |
| | 12/2/2016 | 11/25/2016 | Change |
| Fed Fund Futures Rate Prediction | Dec. 2016 (95%) | Dec. 2016 (95%) | 0 pts |
| 10yr Treasury - 2yr Treasury | 129 bps | 124 bps | 5 bps |
| High Yield - 10yr Treasury | 441 bps | 441 bps | 0 bps |
| Corp A - 10 yr Treasury | 110 bps | 112 bps | -2 bps |
| 10 yr Bund - 10 yr Treasury | -207 bps | -212 bps | -5 bps |
| 5yr, 5yr Forward Inflation Breakeven | 2.05% | 2.03% | 2 bps |
The yield spread between the 10-year Treasury note and the 2-year Treasury note widened by 5 basis points to 129 bps. Part of the steepening was driven by concern that the Treasury might actually extend the weighted average maturity of its debt during the Trump Administration, per Steve Mnuchin's remark. OPEC also agreed to a supply cut on Wednesday and higher oil prices will return developed economies to "old normal" inflation paths more quickly. More expensive oil would reduce the need for the European Central Bank to undertake more asset purchases. The ECB's EUR80 bln/month asset purchase program has been having a flattening effect on the yield curve as investors have tried to front-run the ECB on its purchases of long-dated government debt.
High-yield debt yields were unchanged at 441 bps over Treasuries as the surge in WTI crude to a one-month high of $51.68/bbl. was not enough to narrow credit spreads.
Investment-grade corporate debt yields narrowed by 2 basis points to 110 bps over Treasuries with comparable maturities last week. Corporate spreads are at multi-year lows but investors may move further out the risk curve to pick up more yield if they anticipate that fiscal stimulus next year will generate faster economic growth. Faster growth, if it made its way down to corporate profitability, would make debt burdens more serviceable. Any stimulus, however, is unlikely to have a direct effect on the U.S. economy until the second half of 2017.
The 10-year German bund yield moved up to 205 basis points beneath the 10-year Treasury yield last week from -212 bps at the end of the previous week. Eurozone purchasing managers' index data for November has been rather strong and the Italian constitutional referendum did not cause as much stress as previous political events in Europe. Markets are starting to price in the possibility of a so-called "soft Brexit" in which the U.K. maintains some access to the European Union's internal market. To the extent that this sentiment has buoyed sterling against euro, it makes eurozone exports more competitive. Investors may also just be pausing to take stock of the historic widening that has occurred in the Treasury/bund spread over the past month and some traders will see opportunity in convergence. Again, this spread trades at levels not seen since the fall of the Berlin Wall.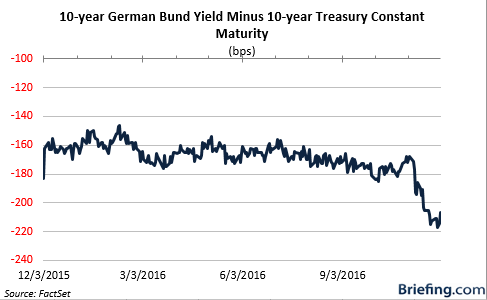 Five-year, five-year forward inflation expectations widened by 2 basis points to 205 bps last week. This is a crucial metric of market-based inflation expectations for Fed policymakers and it has moved up sharply since the November 8 election. OPEC's agreement to put a ceiling on global oil output pushed benchmark oil futures contracts up by more than 10% last week. Higher input prices will eventually mean faster inflation and the attainment of central bankers' inflation targets